Independence Visitor Center
Celebrates Ben Franklin's Birthday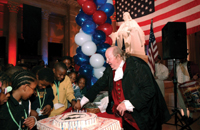 On January 17 from 11:00 a.m. to 1:00 p.m., visitors to the Independence Visitor Center will get a flavor of all the excitement of Ben Franklin's 298th Birthday. Ben Franklin himself will make an appearance on America's most historic square mile, to discuss his life and his inventions. Then children can create their own scientific experiments with make & take crafts, and they will receive special Franklin spectacles.
Visitors can then visit the The Franklin Institute for a huge birthday party with a giant birthday cake with Ben. Visitors will learn about his famous experiments in the Electricity Show, and the Curiosity Show will feature some of his most interesting inventions, spanning topics from light to music.
Dexter, of the television cartoon series Dexter's Laboratory, courtesy of Comcast Cable, will greet visitors in the Bartol Atrium at the Franklin Institute. A scientist in his own right, Dexter is a small child with a secret lab hidden inside his bedroom, unbeknownst to his parents.
For more information on The Franklin Institute, visit www.fi.edu or www.benfranklin300.com.